Long-term accommodation Brno for students and workers
---
---
---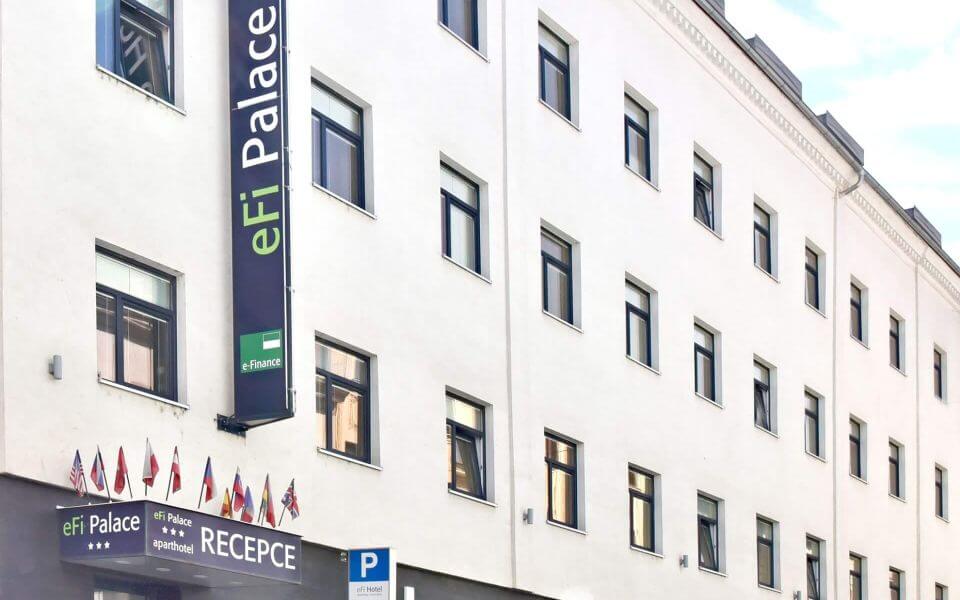 eFi Palace Hotel
We offer fully furnished apartments for study and work stays in the hotel complex eFi Palace in the center of Brno. The apartments include a kitchen unit, electrical appliances as well as other essential equipment.
eFi Palace is a modern multifunctional accommodation complex consisting of 88 apartment units raging in its size from 1+kk up to 4+kk. Some of the apartments serve as hotel rooms of eFi Palace Hotel, the rest of the fully equipped non-smoking apartments are offered for long-term rentals for a period raging from a month up to several years.
Are you moving back home for the summer? No problem! You can vacate the apartment for summertime, and you don't have to pay the rent until your return to the same apartment in autumn. As tenants, we accept both natural persons as well as companies and additionally, we offer the option of deducting VAT for all taxpayers.
The offered apartments are a great match for work and study stays, especially when it comes to managers and executives, sales representatives, entrepreneurs or university students.
eFi Palace complex is perfectly accessible. You can walk to the city center in less than 10 minutes or use the public transport that's only two stops away from the main attractions of Brno.
To its advantage, eFi Palace Hotel*** has its own parking lot located right at the hotel premises.
Advantages of accommodation at the eFi Hotels Brno
The eFi Palace Hotel features the Stará Tkalcovna heritage-style restaurant which offers all catering options, from breakfast to all-inclusive meal plan, in a pleasant ambiance.
We cook for you using fresh ingredients.
Our hotel guests and members of the e-Finance Club can enjoy fitness activities and pleasant relaxation in the eFi Wellness & Fitness centre.
One-site parking
The hotel has its own on-site 24-hour parking with a controlled entrance. You can reserve your parking place before your arrival. The parking fee is CZK 150 per car/night.
Taste Brno in our other restaurants
The EFI SPA Hotel includes the high-quality EFI Hostinec brewery restaurant with an open kitchen. The restaurant specialises in an honest Czech cuisine and uses local and fresh ingredients. You will travel back in time to when the culinary craft was performed with love, honesty, and an emphasis on quality.
The EFI SPA Hotel has its own EFI PIVOVAR craft brewery. In the three-vessel brewhouse, made in the Czech Republic, beer is brewed for you in several styles and tastes. We use the best available ingredients and, as far as we can, we brew by hand.
Mediterranean restaurant TEFITI. Our cuisine is prepared according to a typical Italian tradition with modern elements and offers the opportunity to discover unique and authentic dishes that combine the love of Italy with the needs of local customers.
Reviews from our guests
Nice, big, confortable apartmant with great breakfast.
Hotel area is strange. Nice, down town envirement but some unfamiliar faces hanging on streets. The hotle itself absolutly fine. Nice and well comformed, clean room, good restaurant, kind staff, good breakfast. So I canoffer it for anybody. Historical old town is so close.
Lajos
This is a first class apartment hotel in Brno....squeaky clean, spacious and with comfortable beds. When we arrived, we were given vouchers for the restaurant and for a free glass of wine so decided to try the food. Great meal, more wine and friendly staff......very inexpensive and good fun. I would have no hesitation in recommending eFi to travellers of those on holiday in this city.
Gordon
Previous
Next
Where to
find us
Contacts
eFi Palace Hotel

Bratislavská 52, 602 00 Brno
If you have any questions, do not hesitate to contact us.
Write us
Your question has been sent.